13 moons
Sisterhood + support + seasonal living.
A 6 month program. Live in sync with the Moon.
More confidence, better health, and pure self-acceptance.
July 16, 2019- January 10, 2020.
13 Moons is:
A 6 month seasonal living program for Witchy women who want to live in tune with the Moon AND cultivate the confidence they need to do what they want in life.
13 Moons is the culmination of my 10 years of personal development research, women's reproductive health studies and mindfulness coaching all rolled into one!
3 pillars of nourishment:
#1: You don't have to do it alone.
You're always the strong one, the one giving advice, the healer or teacher. But in this 6 month container, you are cared for in ways you can't imagine. You've not only got support from me, but from ALL the other women in the sisterhood. Learn how to use tools of communication to step into the feminine space of receiving.
#2: Learn how to live seasonally.
With the Moon as our guide, the Lunar Nourishment Sisterhood is an opportunity for you to discover how the spiritual, astrological, and energetic laws exist both within you and around you. You'll reclaim your connection to your womb and to your source so that you can stop focusing on manifesting the "next thing" and learn how to stay present and accept every moment.
#3: Find your voice.
During our time together, you will receive support, validation, and respect as you show up simply as you are. This is your opportunity to find out what brings you joy, what no longer serves you, and how to live a more simple life that brings you to your fullest capacity as a human on earth, a Mother to all, and a healer for others.
Confidence, clarity, and coaching are all included in this sacred community experience.

+ Moon Tune
Finally live in sync with your menstrual cycle DAILY so you uncover your gifts and find your purpose and passion.
+ Ritual Radiance
Learn and apply seasonal and monthly rituals for more productivity and deeper rest.
+ Balanced Babes
Learn how to track your cycle WITHOUT using an app for hormonal balance and better health.
+ Plant Power
Discover which herbs are best for women's health and how to make medicines, seasonally!
+ Shadow Sisters
Embrace your rejected emotions (anger, apathy, guilt, shame, sadness) and learn to accept yourself FULLY.
+ Your Inner Voice
Understand the Cervix>Heart>Throat Connection and how to harness its power for full clarity & confidence.
+ Relationships, Redesigned
Uncover your relationship with food, cannabis, and alcohol to free yourself from habits that hold you back.
+ Procrastination or Perfectionism?
Find out how to cultivate creativity and passion without feeling pressure. Release the need to be perfect.
+ Money Mamas
Rewrite your money story and move into an abundance mind-set.
find fulfillment
Cultivate inner confidence through self-care, sisterhood, and structure.
+ Who am I?
The very short version is that I started teaching yoga in 2013, began facilitating women's new moon ceremonies in 2014, and in 2015 I quit my job and started my company, Lunar Nourishment. Since then, I've served hundreds of women via my online courses, in-person moon gatherings, women's health workshops + more. My passion and purpose is to emopwer women to take their life and their health into their own hands through their connection to the Moon.
+ Monthly LIVE Ceremonies
6 live New Moon Ceremonies will initiate you into each month's topic. You'll join the group via Crowdcast (watch the replay if you can't join live.) For a list of call dates, visit https://www.lunarnourishment.com/howitworks
+ Small Group Support Calls
6 live Full Moon video calls with the group to go deeper into that month's theme & how it's playing out in your life. If you show up to all 6 calls, you get a free session with Lydia!
+ Workbooks + Meditations
These will support you each month on your journey. Do them anywhere, at any time. You'll have 24/7 access to these + video replays in your private online portal!
+ Slack Community
You'll interact in real time with the group. Email is so 2012. In Slack, you can post videos, call people, and share in our channels! (Channels are where we have conversations and include: #support, #mamas, #creativity, #random, #atxladies, and more!)
+ More Guidance + Support
The Queens in 13 Moons will receive a monthly Clarity Coaching session with Lydia. This is where the magic happens. If you want to finally change your life and enjoy this experience of being human, this is for you. You also get FREE tuition into her Soul Income Business Mastermind course!
+ 3 levels to choose from
Witches level receives this entire 6 month program for just $850! Upgrade to the Queens level for private coaching with Lydia for $1720! You'll receive a monthly session with Lydia, a recording of the session, + email accountability and more support. If you can't afford Witches or Queens, join as a Maiden and receive the live monthly New Moon call + workbook!
+ Are there payment plans?
Yep! You'll find them all on the enrollment page.
+ How do the calls/ceremonies work?
Each call is 75 minutes long and all are recorded, in case you can't join live. The New Moon Ceremonies are done via Crowdcast (you see me but no one sees you and you can type in a Chat box to interact!) and the Full Moon break-out sesssions are done via Zoom with everyone on video + mics. As long as you have a computer with a mic and camera + internet connection, you're good to go!
+ I don't like "group" stuff. Is this for me?
I'm the same way. I created this program for the women who WANT a tribe but are afraid or don't know how to find one. This is for the women who feel awkward to speak up but know it's good for them. This is for the women who have always felt like they're on the outside, looking in but want so badly to belong and feel supported. The community aspect of this program is huge; healing doesn't happen alone.
+ How can I trust you?
I have been leading women in mindfulness coaching since 2013 and have served hundreds. This specific program, 13 Moons, has been "in action" for the last 12 months. You can visit the Results page to read what our graduates love about working with me!
75 other women have been exactly where you are…
Here's what they have to say: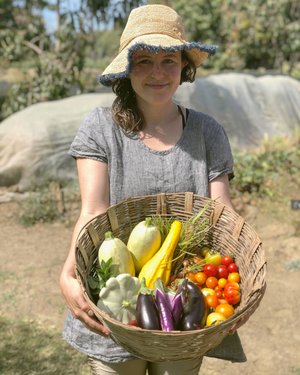 …for the women I've met, the feedback I've gotten, and Lydia is super real!

She talks in a way that makes sense, she isn't "pretending", she pauses when she needs to, and I really value her authenticity in her program."

- Cristina, founder of Rooted Method
"HOW WILL THIS ACTUALLY CHANGE MY LIFE?"
By the end of our 6 month journey together…
you'll have the tools you need to enjoy your life:
Confidence in your intuition and knowing how to follow through with it

Understanding how the body,mind, spirit connection are innately linked with your own vibration and how to nourish each part of the whole

You'll know how to use your voice and your energy to set boundaries so others know what is and isn't okay in your world

You'll understand your relationship with money, how to create (and keep) a budget and how to run your business without a ton of start- up cash

A new level of awareness of your daily habits and how they either create or block energy

Acceptance of yourself on such a deep level that contentment now comes from within

You will finally know that you are enough. Just by simply existing.
It's for the women who are tired of feeling small and stuck, while they look and stay strong for everyone else. It's for the women who want to learn how to take care of their inner little girl and be the Mother to her, daily.

This is for women who want more confidence to simply be themselves.

This is a safe container- a special journey for women who want to live on land one day, and connect to Earth.

It's for the women who KNOW they're supposed to do something big but just need guidance and accountability to help get them there.